Self Directed Learning: Own Your Learning
Teachers should introduce students in a progression of events and should never just assume students know how to direct their own learning.
• Teachers that are interested in self directed learning can start with the Gradual Release of Responsibility Model which works basically on the thought of "show me, help me, let me."
The teachers role in this model is to work collaboratively with the students, since you are the more knowledgeable one, and then hand over the responsibility to the student as they become more independent.

So the teacher assumes control in the beginning with the expectation that the student will be in control of their learning and research at the end.
• Another way to promote self directed learning is by creating a culture in the classroom and therefore the student becomes the culture-maker to deepen understanding of topics, create critical thinking skills, bring awareness to incorporating positivity towards cognitive behavior, and heighten the level of conversation between peers.
A culture is organic and must happen on its own. The question is

how

. By not just acknowledging achievements but honoring their contribution to the class through a student's small achievements like group/project roles, mini-milestones in larger projects, emotional support of others, or any other minor actions, you will be drawing attention to their positive cognitive actions and soon, others will be doing the same.

A culture starts with the teacher modeling the tone of higher order thinking, highlighting a student's small achievements, and creating a safe environment to contribute in group projects with deeper discussion topics.

In turn, this will be the norm and expectation within the classroom and a culture begins.
• Another way to promote self learning in the classroom is to allow diverse terms of achievement.
We have all heard that choice drives a student to become more motivated. This doesn't mean you give them free reign to do whatever they want. This means that choice is built into the project with the possibility of self-published multimedia resources and self-made rubrics to make their learning more personal and give them a way to measure their success on their terms.
Collaboration: Work Together, Learn Together
There are several cool ideas you could use when creating a collaboration project.
• "Skype in the Classroom" - You can join thousands of teachers, guest speakers, and virtual field trips to bring real life learning to students all over the world (you must download the software onto your device, first). This is done through Microsoft Education now (it moved sites).
• "Mystery Skype" - offered through "Skype in the Classroom" Mystery Skype is an educational game, invented by teachers, played by two classrooms on Skype. The aim of the game is to guess the location of the other classroom by asking each other yes or no questions. It's suitable for all age groups and can be used to teach subjects like geography, history, languages, mathematics and science.
• Google Docs - Whether it's collaboration in your classroom or pairing up with a classroom across the country, students are able to work together on projects in real time (Skype can also be used with this as students work in other schools)
Information Literacy: Untangle the Web
Definition:
Let's start with a clear understanding of what "information literacy" means. Most definitions center on the basic communication competencies of accessing, analyzing, evaluating and communicating information.
Information literacy involves these steps:
Planning research or posing a question — for example, "Is global warming real?"

Organizing a way to search for the answer — divide students into groups and use a research model like the

Super3™

or the

Big6™

.

Finding resources — such as databases, documentary films, Web sites (like the National Oceanic and Atmospheric Administration), print sources, and local experts.

Evaluating the resources and thinking critically about them — Who made the message and why? What is left out of the message? How might others view the message differently?

Expressing the information learned in meaningful ways — for example, student-produced podcasts, e-zines, and wikis.
Process:
Within those simple steps are many opportunities for students to develop discrete skills like learning to synthesize and evaluate complex thoughts and ideas. Many skills are required for progress. Teacher-librarians can help by:
Using an information gathering model. Use The Big6™ or the Super3™ as a tried-and-true method to teach students to become information users extraordinaire.
Teaching discrete skills in real-world settings at the moments when students need to know them — like when the air conditioner breaks and it is 105 degrees!
Providing rich opportunities and motivating materials for gathering information, such as viewing actual data online at the NOAA website.
Providing a variety of ways for students to repackage information — like producing podcasts for the school library Web page.
Where to Start:
Ask students to pose simple questions about topics that interest them. Once they have their questions, help them make a plan for gathering information about the topics. Lead students to the resources and assign meaningful, technology-rich methods for them to evaluate and repackage the information they learn.
Teach Information Literacy and Critical Thinking Skills! A great resource for teachers and librarians alike that includes great ideas and resources, click here.
Teaching Internet Information Literacy: A Critical Evaluation This site speaks to teachers and librarians about internet dependency, reliability dilemma, skills for evaluating internet sites, the students' internet dichotomy, teaching effective research strategies, and provides a GREAT internet site evaluation sheet! Click here to check it out!
Today's students must develop information and media literacy skills in order to function in society. As teacher-librarians, we have a responsibility to use our resources to collaborate with classroom teachers to make sure that our students become both information literate and media literate. Let's take the challenge!
Capstone Press, Initials. (2007, October). Teaching information literacy skills. Retrieved from http://www.capstonepub.com/content/TEACHER_ARTICLES.
Critical Thinking: Think Deep, Think Different
Active learning promotes critical thinking.
OR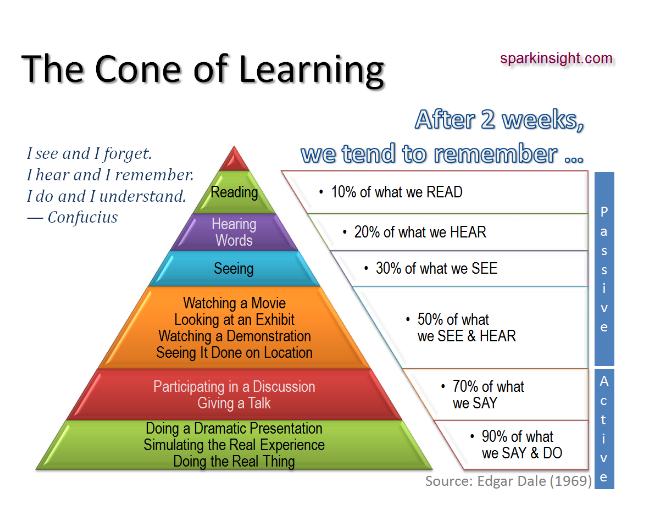 The 3 Steps of Critical Thinking Lesson Plans: (for more ideas, click here)
1. Anticipating- Lesson Introduction
Call up the knowledge students already have

Informally assess what they already know, including misconceptions

Set purposes for learning

Focus attention on the topic

Provide a context for understanding new ideas
2. Building Knowledge – Lesson Activity / Discussion
Students compare expectations with what is being learned

Revise expectations or raise new ones

Identify the main points

Monitor personal thinking

Make inferences about the material

Make personal connections to the lesson

Question the lesson
3. Consolidating - Lesson Reflection
Students summarize and interpret the main ideas

Share opinions and make personal responses

Test out the ideas (apply to assignment, project, etc.)

Assess learning and ask additional questions
_______________________________________________________________________
Ideas for critical thinking and active learning:
Active listening: paraphrasing spoken statements
Active writing: submit questions (thinking in writing), editing the work of others, or writing to determine comprehension in mid-lesson (a brain dump)
Group Brainstorming
Think-Pair-Share
Role Playing, Simulation, and Drama: Assign a role, understanding the audience (depending on whom you are speaking to will change the way you write or discuss a topic)
________________________________________________________________________________
On the site, The Critical Thinking Community, there are some great resources to use in all grades. There are lesson plans for ELA, recommendations for critical thinking, and much much more! Click here to visit.